Always Prepared
The Hartford's Guide to Emergency Preparedness Planning published by The Hartford Financial Services Group states that 43% of businesses that experience a disaster and have no emergency plan never reopen. Of those that do reopen, only 29% are still operating two years later. Preparing for a disaster, or even a significant business crisis, doesn't have to be an overly expensive or taxing operation.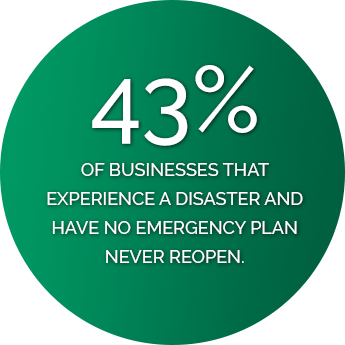 How Can We Help?
Home Telecom Business Solutions assists customers throughout the disaster recovery planning and implementation process. By leveraging Immedion's SSAE 16, SOC 1 Type II compliant data centers, highly skilled staff, and suite of Managed Services, clients are able to mitigate inherent risks to production data associated with substandard data room infrastructure or network security threats.
Backed by industry-leading service level agreements (SLA), Home Telecom Business Solutions powered by Home Telecom, also works with clients in providing the highest assurances that business critical data is backed up and available for restoration at all times.
With four fully redundant data centers, Immedion is ideally positioned to be your one-stop shop. By utilizing Immedion for both your primary data center and DR needs, you are taking full advantage of our high-speed backbone between our multiple data centers.
Finally, if your business experiences a crisis, Immedion can provide 24/7/365 data center services including temporary workspace to get your business back up and running as quickly as possible.

Agility Recovery Partnership
Business Continuity is not an IT issue. It's a business issue. We understand the risks involved in operating a business. This is why we have partnered with Agility Recovery Solutions, North America's leader in business continuity solutions. Agility's core belief is that every business, regardless of size, should have access to continuity services that are affordable, simple and easy to use.