Smart Security With Savings Built In
Connecting lights, locks, and thermostats to your security system ensures that your business is at a comfortable temperature when it's open and energy efficient when it's closed. The Qolsys IQ Panel 2, included with our security systems, will also take a picture of anyone that disarms the system. When the alarm is triggered, a picture is sent to the authorized user on the account.
Learn More About Qolsys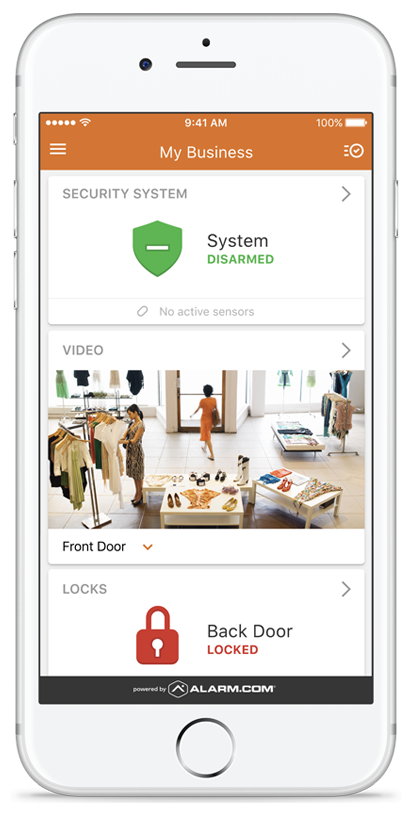 Manage Your System From Anywhere
From storefronts to entire office buildings, secure your business against a host of security issues from anywhere. Control your security system, lock and unlock doors for employees, and view live-streaming, recorded video and real-time notifications. It's easy to see what's happening when you can't be there.
Powered by Alarm.com
Learn More
Business Class Security
A security system that goes the extra mile! Take control with a fully integrated system, all located on one easy-to-use app. Stay in the know and understand everything that's happening in your business with real-time notifications, remote control, and auto-arming. No matter where you are, uncover and track any activity going on in your business.
|
Add Ons
Cloud Storage
24/7 Security Monitoring
Touchscreen Panel
Glass Break Detection
Touchless Disarming with Bluetooth
Custom Photo as Screensaver
Unauthorized User Picture Snapshot
App-Based Control of all the security devices in your business
Alarm.com - itunes | google play
Total Connect - itunes | google play
*Equipment not included.
---
Automation & Security
Our systems go beyond security, automatically reducing energy waste and increasing efficiency. Engineered for small to medium-sized business owners, wether you have a small team or hundreds of employees, our intuitive interface allows you to easily manage your business. Our smart business security combines intelligent intrusion detection, video surveillance, access control, and energy management into a single cost-effective solution.
|
Smart Add Ons
Cloud Storage
24/7 Security Monitoring
Touchscreen Panel
Control all of the Zwave devices in your home
Glass Break Detection
Zwave Thermostat*
Touchless disarming with Bluetooth
Custom Photo as Screensaver
Unauthorized User Picture Snapshot
Zwave Garage Door Controller*
*Equipment not included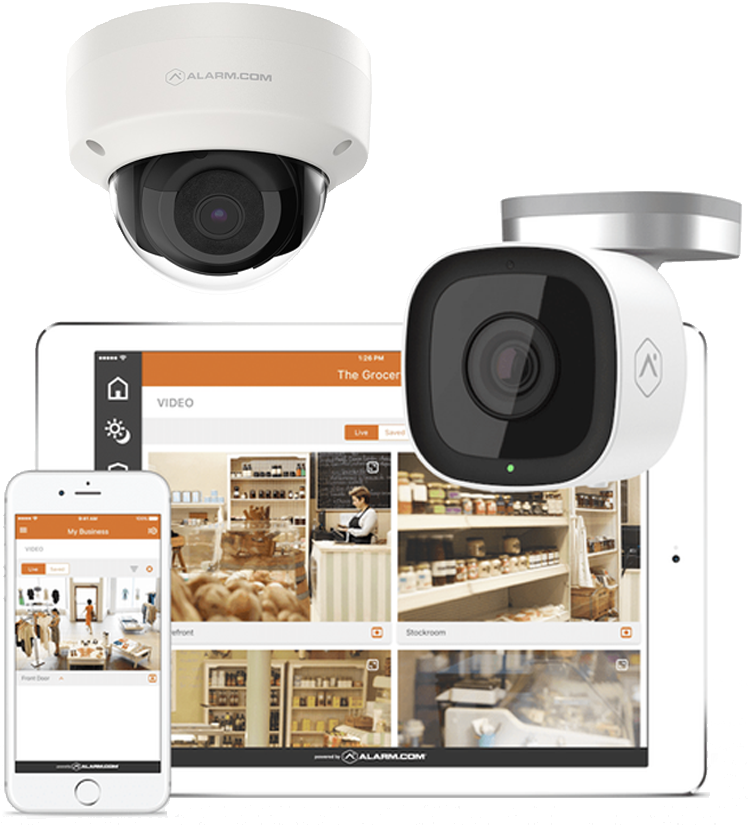 What Customers Are Saying
"Internet is like water for us. We have to have good internet in order to function well for this sector of the economy to grow, so having a partner like Home Telecom help us just critically important."
— John Osborne, CO-Founder/Director of Harbor Entrepreneur Center
"We were impressed with the variety of features offered by this VoIP system. It's also a cost-effective solution for us. We can share one voice PRI by using the VoIP technology."
— Bill McKenzie, VP Development, Daniel Island Company - PRI Grcuit and ESI PBX customer
"A B&B needs safety, especially fire alarms, for good peace of mind. I've been a Home Telecom Security customer since November 2009 ... working with Home Telecom is like dealing with your family-the part of your family you actually like"
— Lou Edens, owner, Charleston Area Bed and Breakfasts Rice Hope Plantation and Sunny Meadows - Security customer
"It's imperative for BCI to make every dollar count, and Home Telecom enables us to do that. Home Telecom is also a local business that's very community oriented ... Home Telecom has generously donated to our respite programs for families. "
— Alice Shook, Executive Director, Berkeley Citizens - Non-profit Human Services Organization - Centrex (140+ lines}, HD Video, and Fiber internet customer
"Fortunately I can say for four years now we have had 100% uptime. They're nimble, they are proactive, and they're responsive, so that has been a great relationship."
— Scott Corvino, Westrock, Director of I. T.
"We ultimately chose Home Telecom based on several reasons, including the availability and quality of fiber. In addition, their pricing was by far better than anything else out there ... And they're a local company with a local feel; we like that."
— Eric Wright, Senior Linux Systems Admin, SPARC Software Development and System Integration Company - Metro Ethernet customer
❮
❯